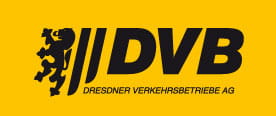 Menu
Route timetables
Timetables valid until Wed, 03.10.18
Departures timetables for S-Bahn city trains and regional/long-distance services are published by the Upper Elbe transport association (VVO).
Key
Stop where routes separate

---
This service is provided with the kind support of

Current changes
close
from Mon, 24.09.2018, 04:00 o'clock until Wed, 03.10.2018, 03:30 o'clock
Dresden - ElbePark, Gleisbau und Bordregulierung
9, 13

72, 79
---
Beschreibung
Straßenbahnlinie 9: verkürzte Linienführung
Prohlis - Anton-/ Leipziger Straße - Mickten (Haltestelle Linie 4), weiter nach Radebeul Ost

Straßenbahnlinie 13: verkehrt ganztägig
Prohlis - Mickten

Buslinie 72: verkürzte Linienführung
Klotzsche - Boxdorf - ElbePark

--> Die Abfahrt in Richtung Klotzsche erfolgt an der Haltestelle ElbePark der Linien 64/ EV 9 Richtung Reick/ Mickten.

Buslinie 79: Erweiterung der Einsatzzeiten
täglich 05:00 - 01:00 Uhr
Ersatzverkehr
Ersatzbusverkehr EV9:
Mickten (Haltestelle Linie 4) - Bunsenstraße - ElbePark - Kaditz, Riegelplatz
Haltestellenanpassungen
Zu den Haltestellen ElbePark, Washingtonstraße und Kaditz, Riegelplatz nutzen Sie auch die Linie 64.
Die Haltestelle Trachauer Straße und An der Flutrinne erreichen Sie nur mit der Linie 79.
Die Haltestelle Sörnewitzer Straße kann nicht bedient werden.
Die Haltestelle ElbePark und Washingtonstraße befinden sich am Fahrbahnrand.
Weiterführende Informationen
This route change is taken into account by the timetable information service.