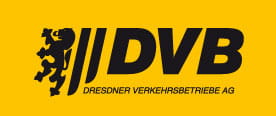 Timetable information
Menu
Elbe ferries: cross the river without a tram or bus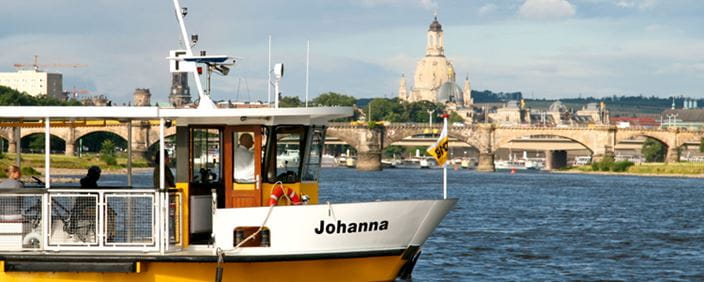 There's nothing so nice as messing about on the river – and crossing it on one of our Elbe ferries is a real delight! Being ferried over the Elbe is not only fun for younger passengers; it is very practical, too: whether you are taking a long stroll on the Elbe meadows or going to work, you can take a short-cut to the other bank with our Elbe ferries and enjoy the view of the city from the water.
We get you there, not just by rail or road but also on the water.
You can cross the Elbe by ferry at three points in central Dresden, and each crossing is attractive in its own special way.
Johannstadt - Neustadt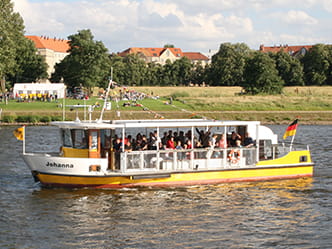 On the outskirts of the city centre, by the Johannstadt Fährgarten beer garden, the ferry crossing is a convenient place to continue your walk along the Elbe on the other side of the river. As you cross from Johannstadt to the Neustadt you get a marvellous view of the city centre skyline.
Niederpoyritz - Laubegast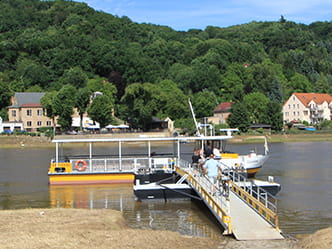 Set in the sprawling Elbe meadows, this ferry crosses from Laubegast to Niederpoyritz, giving you an impressive view of the meadows to the east and the slopes of the Elbe valley to the west. This ferry crossing is easy to reach on tram routes 4 and 6, getting off at Alttolkewitz, or on bus route 63 to Moosleite.
Kleinzschachwitz - Pillnitz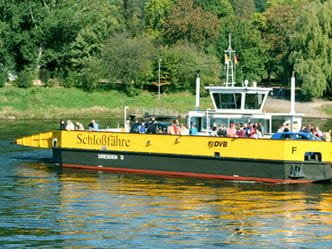 The ferry connection between Kleinzschachwitz and Pillnitz is of particular interest to anyone visiting Pillnitz palace and grounds. As you arrive on the water there is a striking view of the palace. This is also the only ferry crossing in Dresden to carry cars. Moreover, combined with tram route 2, this ferry crossing is the fastest connection between the city centre and Pillnitz. From the terminal at Kleinzschachwitz, Freystraße, it is just a short walk to the ferry crossing.
Ferry prices
valid from 1st August 2020
Tickets for individuals
| Validity | Normal | Concessions 1 |
| --- | --- | --- |
| Single journey | €1.50 | €1.00 2 |
| Return trip | €2.40 | €1.50 2 |
| 10-trip ticket | €10.00 | €6.00 2 |
Tickets for two-wheeled vehicles (motorbikes, bicycles) incl. rider or dog
| Validity | Normal | Concessions 1 |
| --- | --- | --- |
| Single journey | €2.50 | €1.50 |
| Return trip | €3.90 | €3.00 |
Tickets for cars4incl. driver or horses incl. rider
| Validity | Normal | Concessions 1 |
| --- | --- | --- |
| Single journey | €4.00 | €2.00 (subscription) 3 |
| Return trip | €6.50 | €4.00 (subscription) 3 |
| 10-trip ticket | €27.00 | |
1concessions: schoolchildren below age 15
2price also applies to the conveyance of one bicycle incl. trailer, one handcart, one moped up to 50 cm3 or one dog
3price for vehicle driver or rider holding a subscriber's monthly pass, monthly 9 a.m. pass or yearly pass purchased at the normal rate, within the area and period for which it is valid. Price also applied to severely disabled people who have the letters "aG" or "H" in their disability ID card.
4up to a length of 5 metres
---