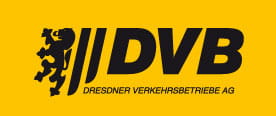 Timetable information
Menu
Gradual shift to accessible travel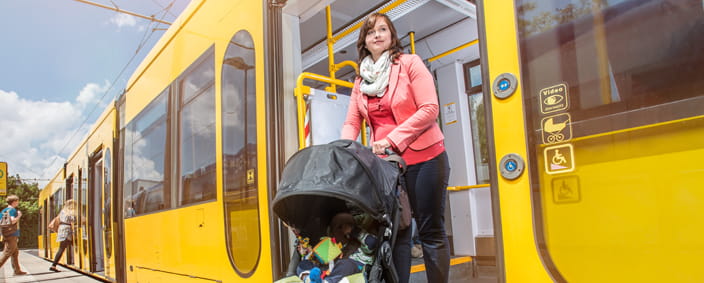 Easy-access local public transport
Our aim is to gradually make our trams, city buses, ferries and hillside railways accessible to all.
To achieve this, we play a pivotal role along with our business partners in the "ÖPNV für alle" (Local Public Transport For All) project in Dresden. For several years now, this project has been run by the LAG SH (Saxon Self-Help Association); it involves the City of Dresden, regional associations for disabled people and other partners.
The number of accessible tram and bus stops is constantly on the rise. These also have a wayfinding system for blind travellers and can generally be accessed by wheelchair users without a ramp.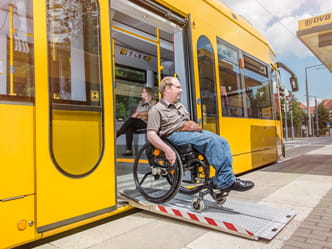 Since 2010, the standard Dresden network has featured only low-floor city trams. They each have a ramp by the first set of doors which enable passengers to enter and exit in a wheelchair at almost any stop. The number of tram and bus stops with raised platforms and a wayfinding system for blind passengers is also constantly being increased. On these platforms, wheelchair users can generally enter and exit trams or buses without a ramp. Throughout the city centre (within the old "No. 26" ring line), all stops are accessible but for a small number of exceptions.

Our vehicles indicate whether or not each stop is accessible (wheelchair symbol or an asterisk "*" after the name of the stop).
In accordance with Volume IX of the German Social Code, our vehicles can be used with valid documentation from the Social Security Office (disabled person's ID card). When this ID card is marked with a "B", one person can also travel for free as a companion.

For passengers with considerably restricted mobility, we offer a special assistance service. The conditions of use can be found here (German only).
Hillside railways and ferries
All the ferries we run on the Elbe can be used by wheelchair users and other passengers with restricted mobility, though the public routes to their moorings are sometimes extremely uneven. Depending on the water level of the Elbe, there may be gradients of up to 20 per cent on ramps at the moorings, which may require assistance.

The Standseilbahn hillside railway from Körnerplatz to Weißer Hirsch is also accessible.
Easy-access local public transport
Blind or partially sighted passengers or others with considerably restricted mobility can use our local public transport system with the help of the BLIS wayfinding system for blind travellers. Passengers with a small hand-held transmitter, which can be acquired from the BSVS (Blinden- und Sehbehindertenverband Sachsen e.V.) can


call up the route number and destination of any vehicle which pulls up at a stop (reply comes via the external loudspeaker on the tram or bus),
alert the driver that assistance may be required (opening all doors for blind or partially sighted travellers),
have the name of the next stop repeated after the vehicle has set off.
Mobility training
For local public transport users in wheelchairs and others with considerably restricted mobility, we and the LAG SH provide mobility training. For details, see the flyer on mobility training in the information box. The LAG SH accepts bookings for this service on www.oepnv-fuer-alle.de, where you will also find further information on the "ÖPNV/SPNV für alle" project run by LAG SH.
---