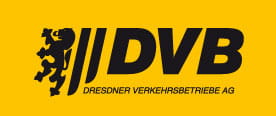 Timetable information
Menu
Hillside railways: ride up and look down!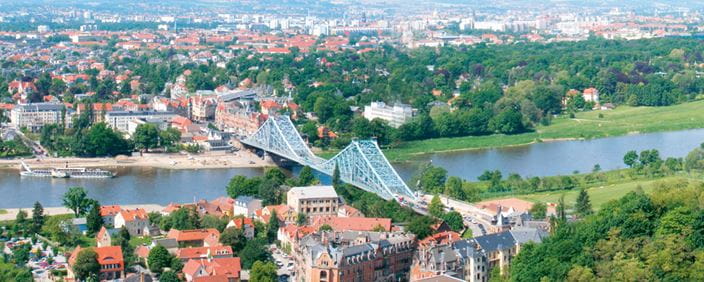 Further information
To make sure that the hillside railways provide their service reliably all year round, they need to be checked twice a year.
The following down times apply:
Standseilbahn:
15.06.2020 – probably mid-May 2021
15.11.2021 – 26.11.2021
Schwebebahn:
The cable railways have helped define the landscape on the picturesque slopes of the Elbe at Loschwitz for more than 100 years. As well as being used for public transport, the two railways have become established as an important Dresden tourist attraction. The Standseilbahn – a track-running cable railway – runs from Körnerplatz to the district of Weißer Hirsch, a well-known exclusive residential area in Dresden. The lower station of the Schwebebahn – a cable-run suspension railway – is just around the corner from Körnerplatz and goes to Oberloschwitz.
Travelling on the hillside railways in Dresden is a special experience, not only thanks to their unique charm. The upper station of the Schwebebahn offers visitors a lovely view of the Elbe valley and, for technology enthusiasts, interesting exhibitions on how the railways are operated. The viewing tower and exhibition are open every day during the Schwebebahn operating times.
Getting there
Getting there is child's play! The lower stations of the Standseilbahn and the Schwebebahn are both right by Körnerplatz. Bus routes 61, 63 and 84 stop at Körnerplatz, or you can take trams 6 or 12, or bus 65, to the Schillerplatz stop. From there it is just a short walk across the famous "Blue Wonder" bridge to Körnerplatz.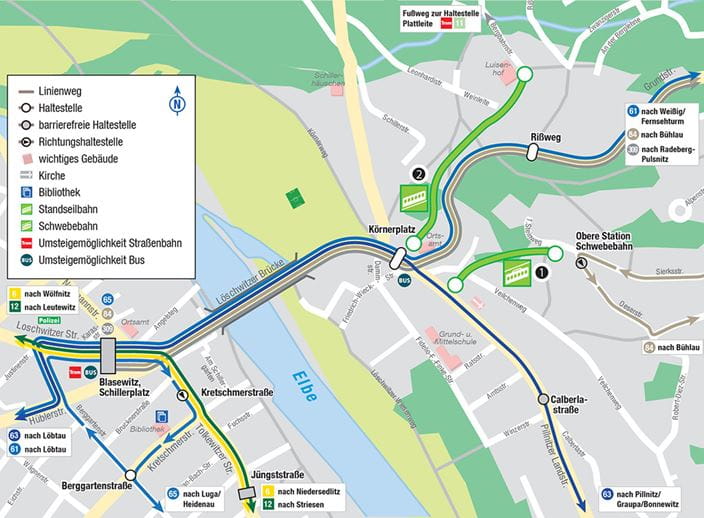 Fares
valid from 1st August 2020
Single journey
| Validity | Normal | Concessions1 |
| --- | --- | --- |
| 1 trip up or down | € 4.00 | € 2.50 |
| 1 trip up and down on the same day | € 5.00 | € 3.00 |
12-trip ticket
| Validity | Normal | Concessions1 |
| --- | --- | --- |
| 12 single journeys | € 25.00 | € 15.00 |
Family return ticket

Validity
Normal
1 trip up and down on the same day for a group of up to 6 People (

2 adults and max. 4 school children until the 15th birthday)



€ 12.50
1Discounted: The price is valid for children until the 15th birthday, holders of a one-day pass and when transporting a bicycle or a dog.
Hillside railway card
One special option for frequent travellers on the hillside railways is the BergBahnCard (Hillside Railway card). All Dresden residents can acquire this special customer card for the hillside railways for a €5.00 fee. It is valid for one year from the date of issue, is non-transferable and entitles the holder to purchase discount hillside railway tickets.
Fare tip: One-week and one-month passes for Dresden are also valid for the hillside railways. On weekdays from 6 p.m., and all-day on weekends and public holidays, holders of a one-month pass at the normal rate can take another adult with them at the discounted hillside railway fare. Valid one-day or family tickets must be shown at the cable car station in order to receive the discounted fare.
Opening times
Schwebebahn:
02.04.2021 – 31.10.2021: every day 9:30 a.m. – 8 p.m.
from 01.11.2021: every day 10 a.m. – 6 p.m.
Standseilbahn:
Out of service until probably mid-May 2021.
Tours and exhibitions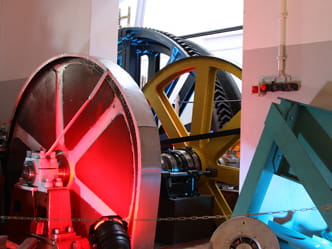 If you want to find out more – at weekends and on public holidays, anyone who is interested can find out from our experts how the Standseilbahn is powered, and how it was historically supplied with energy. If you would like to visit the machine rooms please book in advance.
In the upper station of the Schwebebahn a small exhibition reveals the engineering and history behind this technologically unique monument. There are daily tours of the drive mechanism in the Schwebebahn machine room. For large groups we also recommend booking in advance.
Contact us
Dresdner Verkehrsbetriebe AG
Pillnitzer Landstraße 5
01326 Dresden
---