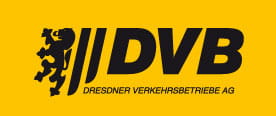 Timetable information
Menu
Our service points: where to get information and answers to your questions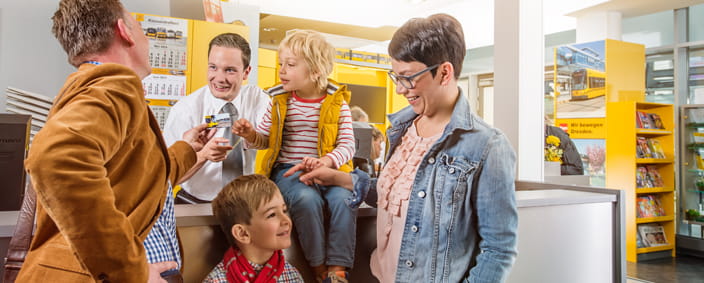 Have a Question? Our customer centre at Postplatz and our service points offer more than just tickets. Our staff will be happy to provide information and answer any question about local public transport in and around Dresden. In addition to this, you can also find out about numerous tourist offers in the Region. Specifically, we provide the following services:
Advice and information about our range of offers
Information on routes and timetables
Advice on fares
Ticket sales
Hand-in point for subscription applications
Souvenir sales
Customer centre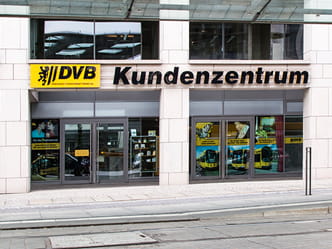 Postplatz 1 (Wilsdruffer Kubus)
01067 Dresden
Postplatz stop (tram routes 1, 2, 4, 8, 9, 11, 12 and bus route 68)
Opening times:
Monday – Friday: 9 a.m. – 6 p.m.
Saturday/sunday/public holidays: closed
Visit our other service points as well:
Service point at the main station (Hauptbahnhof)/Wiener Platz
Main Station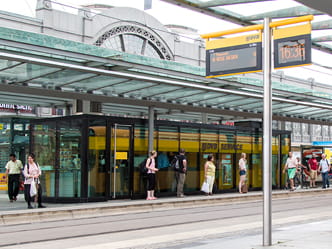 Hauptbahnhof stop
(tram routes 3, 7, 8, 10 and bus route 66)
Hauptbahnhof Nord stop
(tram routes 3, 7, 8, 9 and 11)
Opening times:
Monday – Sunday: 9 a.m. – 6 p.m.
Services:
advice and information about our range of offers, routes, timetables and fares
ticket- and souvenir sales
no processing penalty fares and subscription applications
Service point at Prager Straße
Prager Straße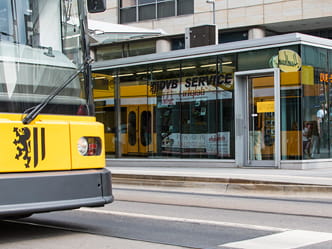 Prager Straße stop
(tram routes 8, 9, 11, 12 and bus routes 62 and 68)
Opening times:
Monday – Saturday: 9 a.m. – 6 p.m.
Sunday/public holidays: closed
Getting to the service point Prager Straße by tram and bus
Services:
advice and information about our range of offers, routes, timetables and fares
ticket- and souvenir sales
hand-in point for subscription applications
no processing penalty fares
Reception service in our administration building
Administration Building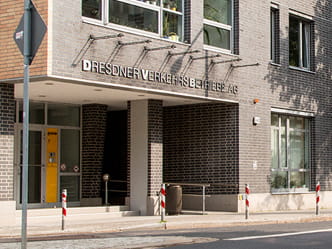 Trachenberger Str. 40
01129 Dresden
Betriebshof Trachenberge stop (bus routes 64, 70, 73, 76)
Trachenberger Platz stop – short walk (tram route 3)
Opening times:
Monday – Friday: 7 a.m. – 7 p.m.
Saturday/Sunday/public holidays: closed
Getting to the administration building by tram and bus
Services:
advice and information about our range of offers, routes, timetables and fares
ticket sales
hand-in point for subscription applications
no processing penalty fares
---