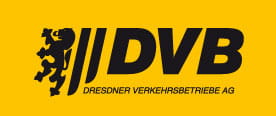 Timetable information
Menu
Schwebebahn: enjoy the view!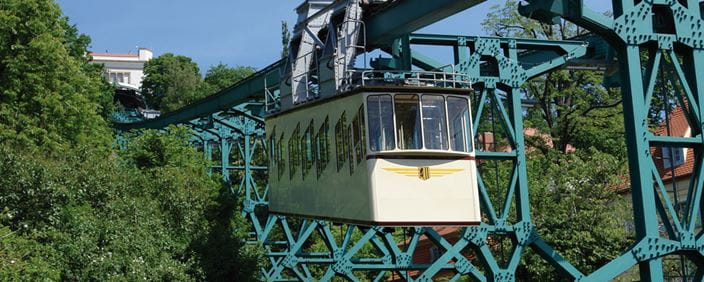 In 1901, six years after the nearby Standseilbahn came into operation, the Dresden Schwebebahn started up. This cable-drawn suspension railway has connected the district of Loschwitz with the heights of Oberloschwitz ever since. The Schwebebahn itself is a marvellous example of German construction skill. The oldest hillside suspension railway and unique in its design, it has cheated time and withstood the ups and downs of history, with only minor technological changes required during that time. The Schwebebahn has been listed as a historical monument since 1975.
After extensive reconstruction from 2001–2002, the upper station of the Schwebebahn was equipped with a modern panoramic lift to take visitors to the machine room tower and its impressive viewing platform. The view over the entire Dresden Elbe Valley gave the area its local name: "Schönes Aussicht" – "Lovely View". The viewing platform and small technological exhibition at the upper station are open every day during the Schwebebahn operating times. For operational reasons, however, last entry to the tower is 45 minutes before the final trip.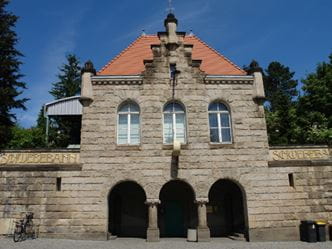 The Schwebebahn's technology is based on the single-track suspension railway principle, the brainchild of the Cologne engineer Eugen Langen. The suspension unit to which the track is attached is held up by 32 pin-ended members and one fixed support. Both carriages have wheels with double wheel flanges to guide them along the track. The carriages themselves hang down below the rail and the train is pulled along by a cable. The hoisting engine is in the upper station.
It was initially run by a compound steam engine, but since 1909 a DC motor has been used to send the train trundling back and forth between the lower and upper stations of this rail system, which is one of a kind in the world.
In a nutshell
Model: Langen system cable-drawn suspension railway
Operation: shuttle
Stations: lower station in Loschwitz, upper station in Oberloschwitz
Length of route: 273.8 m
Height difference: 84.2 m
Average gradient: 32.18 %
Maximum gradient: 39.90 %
Cable: 390 m long; 38 mm thick
Drive power: 80 kW hauling engine: two rigidly coupled driving discs
Capacity: 400 people per hour in each direction
Speed: 1.1 m/s
Journey time: 4.5 minutes
---