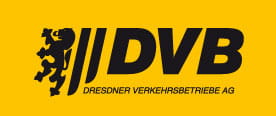 Timetable information
Menu
The Semesterticket, for those great student days.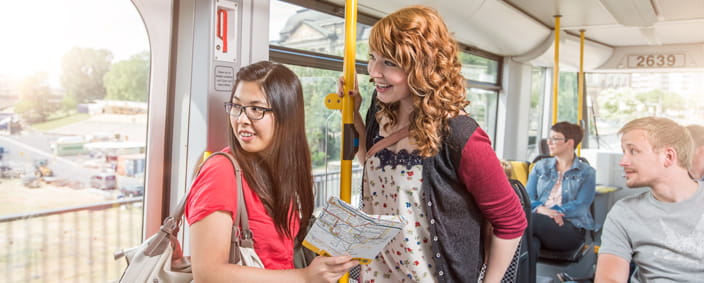 All further education students in Dresden know, love and use it: the Semesterticket. It keeps them mobile without costing the earth.
Ticket validity
A valid student ID plus official proof of identity count as a Semesterticket, following this simple formula: student ID + proof of identity = ticket. The student ID must not be laminated or have any entries or writing you have added yourself, and must be printed with the words "gilt als Semesterticket" ("counts as a Semesterticket"). The Semesterticket is non-transferable.
Travel area
For students in further education1 in Dresden, the Semesterticket is generally valid on all local public transport (except special forms of transport) run by the VVO partner companies (on local transport trains only in 2nd class carriages), but not on the services or route sections marked in the current fare zone map with an "*" or in grey or light green.
Saxon regional rail Semesterticket
For regular students at Dresden University (TUD), Dresden University of Applied Sciences (HTWD), the University of Applied Sciences for Social Work (EHS), Carl-Maria von Weber University of Music Dresden (HfM), the Saxon Lutheran Church Hochschule für Kirchenmusik (HfK), Dresden Academy of Fine Arts (HfbK) and Dresden International University (DIU), the VVO Semesterticket also counts as a ticket for the Saxon regional rail network:
it also entitles them to travel on all local trains within the Free State of Saxony (Deutsche Bahn AG's S, RB, RE, IRE services; Vogtlandbahn GmbH's VBG and TLX services; trains operated by Veolia Verkehr Regio Ost GmbH, MRB, Freiberger Eisenbahn GmbH, Ostdeutsche Eisenbahn GmbH, CityBahn Chemnitz GmbH and Döllnitzbahn with surcharge on historical vehicles
for journeys from or to points outside Saxony, tickets are generally to be purchased from the relevant transport company from or to the last station in Saxony
Special regulations
Dresden's hillside railways, the Kirnitzschtalbahn tram (Bad Schandau), the City Bus in Meissen and the narrow-gauge locomotives may only be used free of charge if this is specifically noted or indicated on the student ID card. The VVO partner companies operating the special form of transport will add this confirmation if the student can prove that he or she lives within the catchment area (within 800 metres of the boarding point; in the case of the hillside railways this only counts for the upper station).
Conveyance regulations
One bicycle or one dog per Semesterticket may be conveyed free of charge within the VVO network during the following periods:
from Monday to Friday between 7 p.m. and 4 a.m. on all local public transport (buses, trams, local trains etc.)
all day long at the weekend and on public holidays, but only on buses and trams
all day long on ferries where VVO fares apply
When conveying a bicycle or dog outside these periods, the VVO fare regulations apply as for a one-day pass:
a pricing level 1 one-day bicycle pass is required for trips within one fare zone
a one-day bicycle pass at the "entire network" pricing level is required for trips within two or more fare zones
These tickets are valid for the day they are time-stamped until 4 a.m. the next day
When frequently conveying a bicycle or a dog (not both at once) on local VVO transport, a monthly bicycle travel pass is recommended.
1Institutes of higher education in Dresden:
Dresden University (TUD)
Dresden University of Applied Sciences (HTWD)
Carl Maria von Weber University of Music, Dresden (HfM)
Hochschule für Kirchenmusik Dresden (HfK)
Dresden International University (DIU)
Dresden University of Applied Sciences (FHD)
Dresden University of Applied Sciences for Social Work (EHS)
Academy of Fine Arts (HfBK)
Palucca University of Dance, Dresden
---