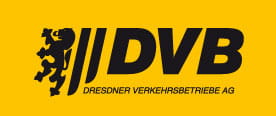 Menu
Route timetables
Timetable valid until further notice

Direction MESSE DRESDEN

Direction Striesen
Departures timetables for S-Bahn city trains and regional/long-distance services are published by the Upper Elbe transport association (VVO).
Key
Stop where routes separate
---
This service is provided with the kind support of

Current changes
close
from Thu, 21.11.2019, 22:00 o'clock until Thu, 21.11.2019, 22:45 o'clock
Dresden - MESSE DRESDEN, Verstärkerleistungen
10, 20
---
Beschreibung
Für die Veranstaltung "Mario Barth" in der MESSE DRESDEN werden Verstärkerleistungen nach Veranstaltungsende bereitgestellt. Die Linie 10 wird durch die Linie 20 verstärkt.
Straßenbahnlinie 20:
MESSE DRESDEN - Maxstraße - Postplatz - Prager Straße - Hauptbahnhof Nord - Hauptbahnhof - S-Bahnhof Freiberger Straße - Bahnhof Mitte - Betriebshof Gorbitz
Please note that the effects of these route changes are currently not taken into account by the timetable information service.