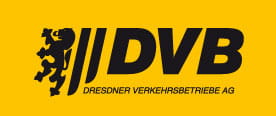 Menu
Route timetables
Timetable valid until further notice

Direction Blasewitz

Direction Heidenau / Luga
Departures timetables for S-Bahn city trains and regional/long-distance services are published by the Upper Elbe transport association (VVO).
Key
Stop where routes separate

---
This service is provided with the kind support of

Current changes
close
from Mon, 24.09.2018, 04:00 o'clock until further notice
Dresden - Berggartenstraße, Leitungsbau
65
---
Beschreibung
Buslinie 65:
Umleitung in Richtung Heidenau / Luga zwischen den Haltestellen Kretschmarstraße und Striesen, Niederwaldplatz über den Fahrweg Tolkewitzer Straße - Oehmestraße.
Haltestellenanpassungen
Die Haltestelle Berggartenstraße wird nur in Richtung Heidenau / Luga nicht bedient.
Die Haltestelle Jüngststraße der Straßenbahnlinien 6 und 12 in Richtung Heidenau / Luga wird zusätzlich bedient.
This route change is taken into account by the timetable information service.