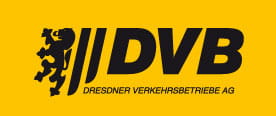 Menu
Route timetables
Timetables valid until Tue, 16.03.21
Departures timetables for S-Bahn city trains and regional/long-distance services are published by the Upper Elbe transport association (VVO).
Key
Stop where routes separate
---
This service is provided with the kind support of

Current changes
close
from Mon, 25.01.2021, 04:00 o'clock until Sat, 31.07.2021, 03:30 o'clock
Dresden - Steinbacher Straße, Gleis- und Straßenbau
2, 6, 11, 41, 46
---
Beschreibung
Straßenbahnlinie 2:
Umleitung zwischen den Haltestellen Cottaer Straße und Amalie-Dietrich-Platz über die Haltestellen Tharandter Straße – Malterstraße – Julius-Vahlteich-Straße.

Straßenbahnlinie 2: nur im Nachtverkehr verkürzte Linienführung
Kleinzschachwitz – Postplatz – Cottaer Straße – Tharandter Straße, weiter als Straßenbahnlinie 12 Richtung Leutewitz

Straßenbahnlinien 6 und 11:
Entfall und Ersatz durch die Straßenbahnlinien 41 und 46

Straßenbahnlinie 41: baubedingte Linienführung
Waldschlößchen – Bahnhof Neustadt – Bahnhof Mitte – Cottaer Straße (– Semmelweisstraße)

Straßenbahnlinie 46: baubedingte Linienführung
Niedersedlitz – Schillerplatz – Sachsenallee – Bahnhof Neustadt – Postplatz – Hauptbahnhof Nord – Lennéplatz – Zschertnitz

Ersatzverkehr
Ersatzbusverkehr EV 2: Anliegerverkehr
Cottaer Straße – Pennricher Straße – Julius-Vahlteich-Straße
Haltestellenanpassung
Die Haltestelle Hebbelplatz kann nicht bedient werden.
Anschlussregelungen / Hinweise
Die Straßenbahnlinie 46 garantiert alle Anschlüsse im Streckenverlauf der Straßenbahnlinie 11 an den Haltestellen Bahnhof Neustadt, Postplatz, HBF Nord und Lennéplatz.
Die Straßenbahnlinie 41 garantiert die Anschlüsse an der Haltestelle Waldschlößchen von/zum EV 11 sowie an der Haltestelle Cottaer Straße von/zum EV 2.
Die Anschlüsse an der Haltestelle Tharandter Straße im Nachtverkehr zwischen den Straßenbahnlinien 7 und 6/12 sowie an der Haltestelle Bahnhof Mitte im Spät- und Wochenendfrühverkehr zwischen den Linien 6 und 75 entfallen.
Zwischen den Straßenbahnlinien 41 und 46 kann an den Haltestellen Albertplatz, Bahnhof Neustadt, Anton-/Leipziger Straße und Kongresszentrum umgestiegen werden.
Im Nachtverkehr besteht eine direkte Verbindung zwischen Gorbitz und dem Stadtzentrum nur mit der Straßenbahnlinie 7.
Es erfolgen Fahrplananpassungen auf den Linien 3, 7, 8, EV11, 61, 74 und 77.
Weiterführende Informationen
This route change is taken into account by the timetable information service.