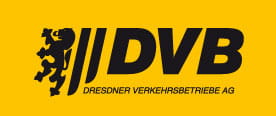 Timetable information
Menu
Frequent travellers: enjoy a wide range of advantages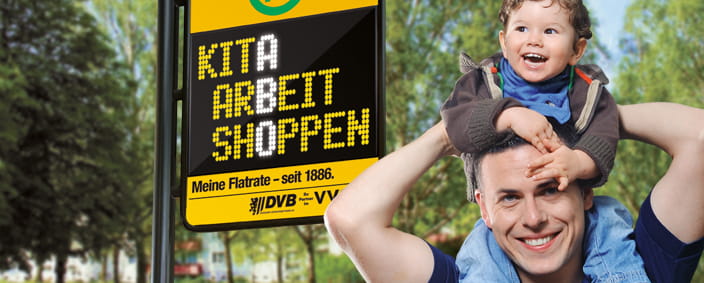 Bus and rail beat tailbacks and stress: Subscribe to a better quality of life! Almost 80,000 regular customers already use our ticket subscriptions. Find out what advantages a subscription will bring you, too.
Attractive extras for you
Unlimited mobility – get where you want: fast, convenient, safe and even eco-friendly.
Subscribers' tickets are transferable – Flexible mobility: lend your ticket to another person, for example during the holidays.
Take your loved ones out at the weekend – Relaxed travel: with your standard-fare subscriber's monthly or yearly pass you can take up to five other people with you (one adult and four schoolchildren below age 15) from monday to friday from 6 pm, the whole weekend and on public holidays. Your dog or bike always travel free at any time.
We're gearing (you) up for bikes – As a regular DVB customer you can always get around at extra-low prices. With a subscriber's monthly pass, thanks to our cooperation with sz-bike, you can use hired bikes with especially favourable conditions.
Exclusive discounts for our subscribers from our CarSharing partner teilAuto – hire a car with especially attractive conditions.
Attractive advantages for you
Simply unbeatably cheap – Easy on the pocket: save up to 14 per cent compared with a normal one-month pass
The whole package – use all routes and forms of local transport in the Upper Elbe transport association (VVO) network at the pricing level selected
Discounts and exclusive added extras – various discount offers, such as up to ten per cent off the admission price at Dresden Zoo, or competitions and customer events
We've got plenty to offer – get yourself a full 50 percent off when hiring cycles from SZ-Bike. And, best of all, you even get the first 30 minutes free of charge!
Attractive service for you
Buy your TICKET once and always have it with you! It's simple: you'll always have your electronic ticket with you as a plastic card with a memory chip.
(prices as of 1. August 2018)
| | Standard fare | Subscription fare | Saving |
| --- | --- | --- | --- |
| Monthly pass | €61.50 | €51.90 | 15.6 % |
| Monthly pass (concessions) | €46.20 | €39.00 | 15.6 % |
| Monthly 9 a.m. pass | €52.40 | €44.50 | 14.3 % |
How to subscribe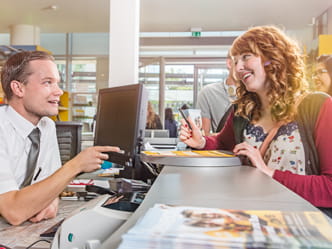 Visit us at our customer centre or one of our service points. Our staff will be happy to inform you in detail about the subscriber's monthly pass and help you fill in the subscription application form. You can also simply download the application form here. Please fill in and send to us by post or fax.
We will also be happy to send you the application form. Simply send us an e-mail or phone.
Contact
Dresdner Verkehrsbetriebe AG
Postplatz 1
01067 Dresden
To help us process your subscription application, please bring along an ID card and your debit card. If you send in your application by post or fax, please enclose a copy of these documents.
Moving or want to change your bank details or type of subscriber's monthly pass?
At our customer centre and service points we will be happy to help you fill in the amendments form. You can also download the amendments form here, fill it in and send it back to us.
To help us process your amendment form, please bring along an ID card and, when changing your account details, your debit card. If you send in the form by post or fax, please enclose a copy of these documents.
Data protection regulations - We guarantee that we will comply with the stipulations in the German Data Protection Act (BDSG). For further details see our privacy statement.
---